There is a never ending cycle our children go through, that we as parents either embrace, mingle with or repel from. 
Someone your child goes to school with has something cool.  Very. Cool.  Then everyone starts getting it and before you know it you have grown women beating each other up over the last Cabbage Patch Doll at Wal-Mart!
There is always some product that is THE thing to have.  I remember when I was in elementary/junior high school that it seemed like everyone I knew had Coca Cola Rugby shirts.  Looking back, it's not that cool… but back then it was THE thing to have!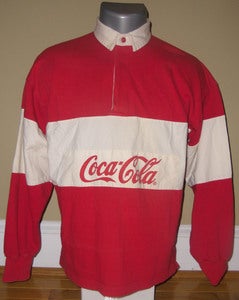 I wanted one of those shirts SO bad.  My parents, the one's that controlled clothing options and money, had other thoughts.   These shirts were expensive, and money was tight.  So I didn't get one of those shirts.  I got a knock off version AFTER the real shirts were done and out of style.  Looking back on that, I am glad that my parents taught me the value of money and working hard for what you want.  Sure, I got things that I wanted …. just not everything!   It made me appreciate it when I DID get something. 
Today my son told me that he wanted an energy band.  I thought it was an odd request from a 6 year old.  Then he explained that So and So had one, and so did Someone Else …  you get the picture.  Part of me thought, "OK!  We'll find one and get it. It can't cost much."  Then the other part of me thought, "He doesn't really need that, and he needs to realize he can't get everything he asks for."    Sure, this item is small and inexpensive.  But then as he gets older the "cool" toys are more expensive.  He has already told me that when he is 10 he thinks he should have a cell phone!  I think not!  
As parents we have very powerful roles in how our children view money, and material items.  We can choose to embrace the idea of "keeping up with the Jones'" and make sure they have everything their hearts desire.  We can choose to mingle with the idea and let them have some cool/hip things and sometimes withhold for whatever reason we choose.  We can repel the entire idea and flat out say no to every phase our child begs through.   I'm a mingler.  I sometimes get my child the things he asks for, and sometimes I tell him no.  Sometimes its a financially based answer …  silly bands?  Yes, you can (its cheap and I can scratch up change in my purse!)!   An iPhone?  Nooooo way! Sometimes I just say no because I don't want him to expect to get everything.  I want him to appreciate things, the way I appreciated things when I was growing up.  Sometimes, I don't want him to be the kid that didn't get the cool Coca Cola t-shirt.  It's a struggle, for certain! 
 There is no right answer.  There is no black and white.  We are all different and we parent according to our beliefs and views and we raise our children accordingly. And that's ok!  But realizing and respecting  the POWER we have is the important part, I believe. Realizing that the choices we make, and the actions we take are the ones that will shape how our child grows up is a stirring thought.   It shapes who they will be as adults!  Things to think about:
Who do you want your child to be when they are all grown up? 

How do you want them to view materialistic things? 

How will you shape your children by the choices you decide on? 
Sometimes I don't like the answer I get when I ask myself those questions.  And it stirs me to think through my decisions more.  They are heavy questions, but important for us (as parents) to keep aware that we are one of the keys to our children's future actions.